Atlas Eyesight
NEWS THAT MOVES
MARKETS
Maine Rate Increases Driven by Transmission and Distribution Costs
by Sean Sweeney
---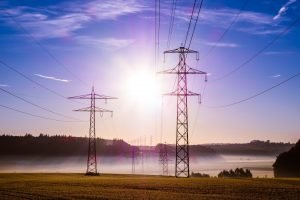 Maine's recent energy cost increases are due to a transmission rate increase approved by the Federal Energy Regulatory Commission and distribution costs approved by Maine Public Utilities Commission for Central Maine Power customers.
The transmission rate increases were determined and approved by FERC in July and became effective August 1, 2021. Maine's transmission rates are driven largely by Maine's portion of the New England Regional system costs. These costs are calculated and governed by FERC and passed through to end users to maintain and improve grid reliability. In an article published by Maine Public Broadcasting Network at the end of June this year, Eric Stinneford, a CMP finance and planning vice-president, explained "Transmission facilities that were built in the 50's and 60's are now approaching the end of life and need to be rebuilt or refurbished to maintain the reliability of the network." Stinneford also notes that although New England's overall electricity usage has decreased in recent years, CMP customers usage has risen which drives increases relative to their share of those regional grid costs.
On the delivery side, Maine distribution increases are associated with storm recovery costs from five major and sixteen small storms that occurred in 2020. On July 14, 2021, CMP's rate hike requests were approved by the Maine Public Utilities Commission for a portion of the 70 million dollar storm recovery costs applied this year and the reminder balance to be recovered in four future years. Faced with massive transmission rate increases they cannot control, the Maine PUC aims to balance the near-term cost concerns with the long-term impacts of pushing expenses out into the future. "Eighty percent of this increase is driven by federally regulated transmission costs and unfortunately, they are determined by formulas that do not consider the impact to Maine consumers. The Commission carefully weighed the impacts of this increase and decided it made sense to defer a significant amount of storm costs to help mitigate the overall price impact for CMP customers," said last month by Philip L. Bartlett who serves as Chairman of the Maine PUC.
These costs will certainly impact energy budgets of energy consumers throughout the State of Maine. Atlas Retail Energy is actively managing these associated costs to mitigate risk and maintain strategy for our clients in the state. We have seen rate code adjustment increased changes of 15.07% – 25.31% per kilowatt hour of electricity used. Utilities determine rate code's and rate class by size and usage. Atlas Retail Energy performs rate code verification reporting for our clients to ensure it is correctly calculated through these constant changes while also providing transparency into navigating your overall long-term energy strategy.
Reach out to Atlas Retail Energy to find out how you can protect your business from these as well as other increases. Also review our previous ARE blog post by Max Stewart where he discussed the impacts of Maine's aggressive renewable standards costs.
For more information, reach out to Sean at sean.sweeney@atlasretailenergy.com. Learn more about our services or how to become an energy broker by filling out this form and someone will contact you within one business day.