At Atlas Retail Energy, we develop and implement custom energy management strategies and utilize top-tier suppliers in the market for both natural gas and electricity. We perform a blind RFP (request for proposals) on your behalf and then verify the legitimacy of the results with our wholesale exposure. The supply community acknowledges our wholesale verification process, which allows us to reduce premiums and excess supplier margin.
We are confident the Atlas Difference provides you a competitive advantage to procure energy and to plan for the long-term.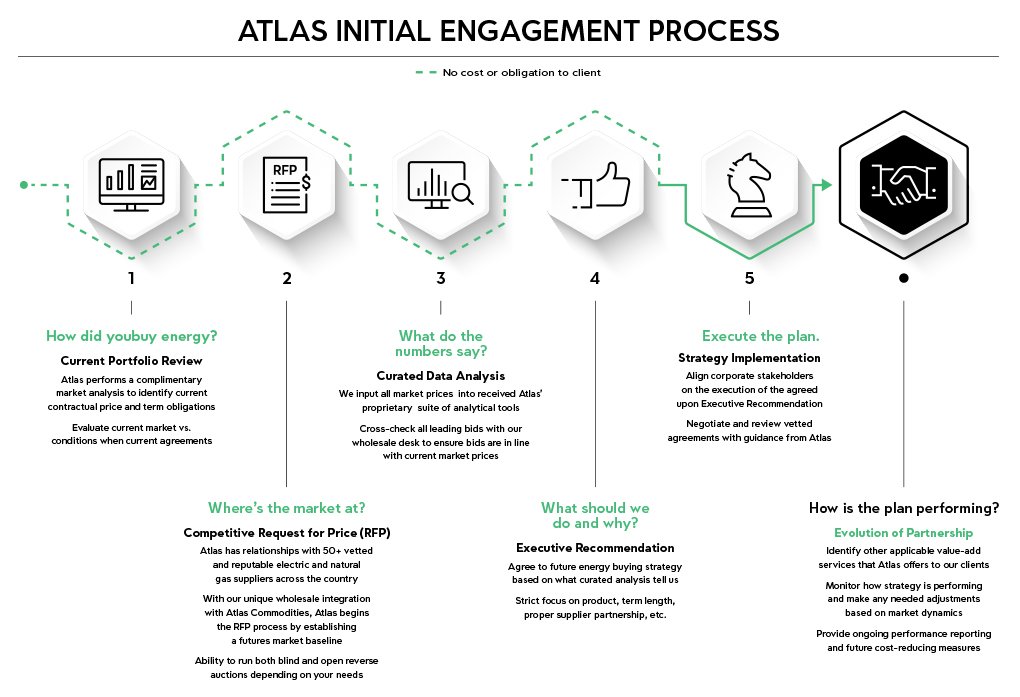 We pride ourselves on providing clarity and visibility into what is an otherwise opaque market and process.
Market Knowledge
Being a part of a portfolio of energy-based service companies, Atlas Retail Energy is afforded unique insights into factors affecting price trends. We relay this real-time information to you to help leverage executional transparency and expert marking-timing.
Reporting & Analytics
Information is power. With our data-driven decision approach, we have developed a proprietary set of tools and analytics that help you remove the guesswork from product selection and market-timing.
Communication
A sound energy management strategy is only effective if communicated properly. Given how volatile power and natural gas prices can be, having a proactive and communicative advisor from Atlas Retail Energy can help you capture market lows and mitigate upside risk.
Customization
We understand that each business is unique in how they want to consume data. Atlas Retail Energy has over 50 customizable reports to help drive quantitative value for key stakeholders within your organization. Your business is unique – ours is too.
Are you ready to learn more about our suite of services?